Operating a good community hospital is all about understanding the needs of the people who live in the area served by the hospital, responding to those needs and playing an important role in the growth, development and general well-being of the community.
Summerville Medical Center, a 94-bed acute care hospital that serves Berkeley, Charleston and Dorchester counties, is already a good community hospital. Its new chief executive officer is primed and ready to make it a great one.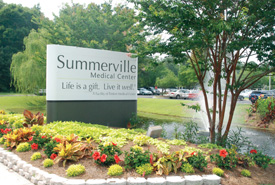 "We're going to continue to make sure we're hiring the best staff and aligning with the best physicians to deliver the best care possible," says Louis Caputo, who took the helm of the hospital in early August 2009. "And we're going to continue to identify the needs of the community and expand our services to meet those needs."
Caputo, who has been with the hospital's parent company, HCA, Inc., since 2001, came to Summerville from the Tampa area, where he was chief operating officer at South Bay Hospital in Sun City Center. A fellow in the American College of Healthcare Executives since 2004, he earned his bachelor's degree in Economics at the University of the South in Sewanee, Tennessee, and his masters from Belmont University in Nashville.
Summerville Medical Center, one of three hospitals in the Trident Health System – Trident Medical Center and Moncks Corner Medical Center are the other two – has been serving the people of the tri-county area since 1993. The 142,500-square-foot hospital has 494 employees, while 512 physicians serve the needs of patients at the three Trident facilities. Nearly 6,000 people are admitted to the hospital each year, while more than 37,000 use the emergency room. Trident estimates SMC's financial impact on the tri-county area at $51 million.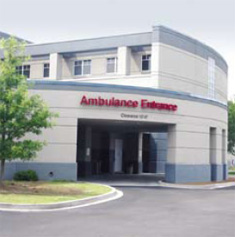 According to Caputo, Summerville Medical Center is already demonstrating excellence in several areas, including labor and delivery, orthopedic surgery and cardiac rehabilitation. He says the hospital's sleep disorder lab is in the process of expanding because of increased demand from area residents. Summerville Medical Center also offers a 24-hour emergency room, medical and surgical services, outpatient services, an intensive care unit, occupational therapy, diabetes education, sports medicine and rehabilitation, lab services and medical imaging.
"Our goal is to take the services we offer and offer them better than anyone else," he comments.
In their effort to cater to the needs of employees and patients, the hospital subscribes to the FISH! Philosophy, taken from a book by Stephen C. Lundin, John Christensen and Harry Paul. Here are the guiding principles of FISH!:
Play – Work made fun gets done, especially when we choose to do serious tasks in a lighthearted, spontaneous way. Play is not just an activity; it's a state of mind that brings new energy to the tasks at hand and sparks creative solutions.
Make Their Day – When you "make someone's day" (or moment) through a small act of kindness or unforgettable engagement, you can turn even routine encounters into special memories.
Be There – The glue in our humanity is in being fully present for one another. Being there is also a great way to practice wholeheartedness and fight burnout, for it is those halfhearted tasks you perform while juggling other things that wear you out.
Choose Your Attitude – When you look for the worst you will find it everywhere. When you learn you have the power to choose your response to what life brings, you can look for the best and find opportunities you never imagined possible. If you find yourself with an attitude that is not what you want it to be, you can choose a new one.
Summerville Medical Center is located at 295 Midland Pkwy, Summerville, SC 29485. You can get more information online from Google Maps entry for Summerville Medical Center.